Miracles In Sight is gearing up for Eye Donation Month 2022!
To help us spread awareness about the importance of eye donation and honor our donors, we have created custom MIS outdoor and garden flags for our partners to display. We're taking orders for these custom flags from now until September 9th, to be distributed in the month of October by our team.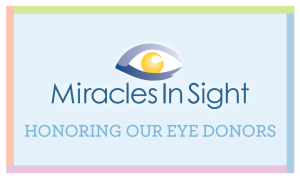 Fly your flags during Eye Donation Month, November 2022, at your hospital, facility or at home and keep an eye on Miracles In Sight's social media accounts for shareable resources to help us celebrate. In addition to Eye Donation Month, our partners can fly their flag each time someone becomes a donor at their hospital honor their life-changing gift of sight.
"Honoring Our Eye Donor" flags are available in three sizes: garden flags (12×18"), standard outdoor (5×3') and large outdoor (8×5'). To place your order, please complete and return the form below by mail or email. We can accept cash, check and credit card payments.
We are grateful for the support of our partners who help us further our mission to advance the eye banking industry through transplant, research and innovation.