Miracles In Sight (MIS) experienced a changing of the guard, so to speak, on June 6, when the CEO, Dean Vavra, began his transition into retirement and Ingrid Schunder became President and CEO of the nonprofit organization.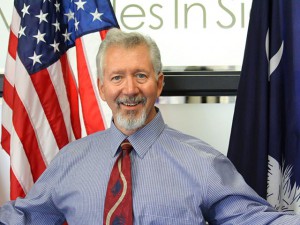 As smoothly as this planned transition has been, it is important to the organization to recognize and express gratitude for the long and exceptionally meaningful career of Dean Vavra. His outstanding contributions to Miracles In Sight and the entire field of eye banking have not simply led to greater outcomes for patients, but to advancing the processes, technology and availability of eye tissue worldwide.
Ironically, Dean got into eye banking by accident. But as he explains, his interest in improving people's vision began before he was born. His mother and all four of his brothers suffered from granular dystrophy type II, an inherited condition that causes corneal blindness. The condition required his mother to undergo corneal transplants before Dean was born, so he has "been familiar with corneal transplantation since I was in the womb."
Eye banking, though, was not a career that Dean even knew existed when he enlisted in the U.S. Army in 1977. "Like most eye bankers, I was blessed that I just fell into it," he says. "That's not unusual. Every eye banking professional says they never intended to be an eye banker. But once they got into it, they loved it."
After earning his certification as an Army medic, he was eventually stationed at Fitzsimons Army Medical Center in Denver, Colorado. "The Chief of Ophthalmology there suggested I get certified (in corneal recovery) and, just like that, I became a part-time eye banker (at the Rocky Mountain Lions Eye Bank)," says Dean. "I did just about everything. I handled tissue recovery, evaluation, upkeep of the lab and invoicing for tissue in an eye bank that served all of Colorado, Wyoming and Montana for a while."
Although by the early 1980s eye banks had existed in the U.S. for several decades, the profession had changed relatively little over the previous 30 to 40 years. The Eye Bank Association of America (EBAA), of which Miracles In Sight is a founding member, began in 1961. The Organ Procurement Organizations (OPO) did not yet exist. And many significant leaps forward in technology were still to come.
"Most people in eye banking during that time would not recognize the field as it is today," Dean explains.
During his 14 years of service in the Army, which included deployment as a medic in Iraq during the Persian Gulf War, Dean continued to build on his experience at the Rocky Mountain Lions Eye Bank. He earned Certified Ophthalmic Technician and Certified Eye Bank Technician designations, among others, and filled many roles during his career there. After the Army, he joined the Colorado Army National Guard, earned his master's degree in business from Colorado Christian University, and became the Chief Operating Officer for the Rocky Mountain Lions Eye Bank and was deployed as an Army medic in Afghanistan in 2002.
He retired from the National Guard in 2005, having been awarded the Bronze Star and the Army Combat Medic Badge during his military career.
Dean came to what was then called the North Carolina Eye Bank in 2009 as Director of Clinical Services and then as Executive Director. The N.C. Eye Bank had already built a reputation for advancing the techniques, tools and technology for the profession. With Dean at the helm, the organization was able to not just continue to enhance the quality and availability of tissue and technology, Dean helped the organization become stronger financially, and expand its reach both nationally and internationally.
On Dean's watch, the organization rebranded itself as Miracles In Sight, combined the program with eye banks in South Carolina and Texas, creating a three-state organization. MIS helped establish or mentor eye banking organizations worldwide, including India and the Middle East. Dean's military experience serving in the Middle East was especially important in understanding different cultures, customs and attitudes toward eye donation and transplantation.
During his eye banking career, Dean served on the boards of directors for the Eye Bank Association of America (EBAA) and VisionShare. He served as the Vice President of the Rocky Mountain Lions Eye Institute Foundation in Colorado. He has been the Chair of the EBAA Technician Education Committee, a member of the EBAA Medical Advisory Board, Regulatory Affairs Committee, among others. In 2010, he was recognized with the Leonard Heise Award from the EBAA for "distinguished service rendered to the nation and the world in the fight against blindness."
In eye banking for 42 years, Dean does not plan to leave the profession completely just yet. He will stay on as a resource for Miracles In Sight for another year, after which he will likely take a position on the organization's board of directors.
As for the future of Miracles In Sight and eye banking, Dean sees a bright future in the next generation of leaders. "I am 100% confident in the future of eye banking and Miracles In Sight. They picked a very capable leader with Ingrid. I am proud of the innovative team we've built here with the best eye banking leaders in the country."
Dean and Ingrid Schunder, MBA, CEBT, have been sharing responsibilities leading Miracles In Sight for the past year in anticipation of his retirement. Ingrid, who also served in the U.S. Army, joined Miracles In Sight in 2013. She served as Vice President of Logistics and Development before being promoted to President last year.
Miracles In Sight and the board of directors are proud to express their appreciation and admiration for Dean's unparalleled contributions to his country, the organization and to the restoration of vision for countless individuals around the world.