The end of March marks Gerard Person's official retirement from Miracles In Sight as a surgical recovery specialist, having spent 20 years making an immeasurable difference in the lives of others throughout a career that began one night in Raleigh, NC, many years ago.
Gerard was moonlighting as a security guard at Rex Hospital in Raleigh when he met a recovery technician from what was then known as the North Carolina Eye Bank. The technician was called to the hospital to recover donated corneal tissue.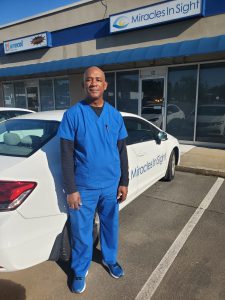 "I asked (the technician) about what he did and what the qualifications were because I was looking for another part-time position," Gerard explains. The encounter made a strong impression on Gerard, leading him to apply with the eye bank and start the extensive training required to get certified and become a part-time surgical recovery specialist.
He eventually took a full-time position with the organization. He managed the office and supplies while also doing tissue recovery until he began doing recovery full-time.
Although the flexible hours were what initially interested Gerard about the work, helping people has always been a big part of Gerard's working life. "In my career I looked for jobs that were rewarding… where I could help someone," he says.
Before eye banking, he worked as a police officer and parole officer for 21 years. He has also taught CPR and first aid classes for several years, a commitment he intends to continue into his retirement.
Over the years, Gerard says he has enjoyed Miracles In Sight as an organization and working with the people. "(Miracles In Sight) is like the first part of that operation to restore someone's sight… it's important that we do what we do correctly," he explains.
However, the greatest satisfaction he gets is when he meets people who have benefitted from eye donation. "It's rewarding hearing about people who have had corneal transplants who have regained their sight… just knowing that what we're doing is helping others," says Gerard. "Even though it's a tragic situation (for the donors and their families), you're helping them give back and give sight to someone."
Gerard is looking forward to spending more time with his wife, Brenda, and their grandchildren.
The community and staff of Miracles In Sight is proud to celebrate Gerard's career with the organization and wish him all the best for a long and fulfilling retirement. We are grateful for his dedication, professionalism and commitment to helping others.