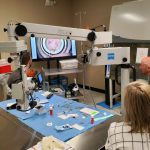 Innovation is the science of delivering ideas that are both meaningful and unique, and there is a myth that only for-profit companies with tens of millions of dollars can be innovative. However, Miracles In Sight and similar nonprofits continue to demonstrate that creative organizations armed with motivation and collaboration can bring meaningful change to operating rooms across the world.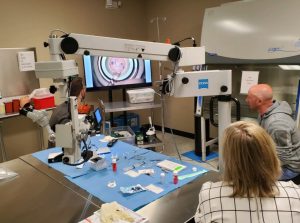 A case in point is Miracles In Sight's pioneering cornea transplant transport assembly, the MIS RapidPrep™ System for DMEK (Descemet Membrane Endothelial Keratoplasty), that was invented by Director of Strategy and Innovation, Isaac Perry, granted a US patent, and then shared with other nonprofit eye banks at no charge. The Winston-Salem, North Carolina-based eye bank, whose mission is to support the restoration, preservation, and enhancement of sight through transplant, research, education, and innovation also provides training, support, and consultation for the process at no charge.
"It is important to all of us at MIS to continue to collaborate and share knowledge and advancements that we have made within our own organizations," said Kristen McCoy, Vice President of Client Relations for Miracles In Sight. "The MIS culture is to build on our strengths and share with other nonprofit eye banks so that we can grow as an industry and provide the best service to our physicians and recipients."
The MIS RapidPrep™ System is a compression and stability transport system that secures corneal tissue during transport to the operating room. It also reduces risk of damage and makes graft preparation for transplant faster and easier for the surgeon, taking what historically could have been 20-30 minutes of valuable operating room time and reducing it to a period of less than two minutes.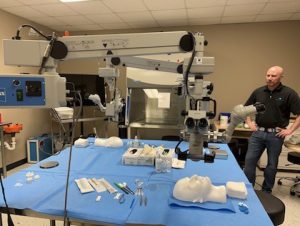 Once the MIS team had perfected the process, they decided the next logical step was to share it with other nonprofit eye banks to positively impact as many transplant recipients as possible.
"Cornea transplantation is only possible due to the selfless and heroic act of donation. It is a gift from one individual to a stranger, and in its purest form, our job is stewardship. We bring this gift to surgeons who are capable of restoring sight to those who have lost it. This is an act that is bigger than any one organization can ever encompass," said Perry. "While industries can thrive on competition, there is something bigger at play here that we must honor in our actions. Freely sharing ideas and best practices not only drives meaningfully unique change, it more importantly honors the greater good driving donation and transplantation."
To date, the MIS RapidPrep™ System and its application has been shared with nine nonprofit eye banks across 15 states. The staffs of those eye banks across the country have been both surprised by and appreciative of MIS' generosity.
"While setting up our DMEK program, I was searching for an easier way to load the graft and saw the RapidPrep DMEK during a webinar from the EBAA. I was able to get in contact with Isaac, assuming that it would be a system we would need to purchase directly from Miracles In Sight," said Laura Cook, Technical Trainer and Laboratory Manager for Oklahoma Lions Eye Bank. "Not only did he share the information to ensure I would be set up to launch this with our DMEK program, but also welcomed me to visit their eye bank to work hands on with their processing team at no charge. This type of collaboration is unique to the eye banking industry and will help each of us to continue to improve our procedures. We are very grateful for all of the support we have received from MIS."
Cook is not alone in her appreciation and praise. Here are a few comments from other MIS partners:
"In today's competitive environment it was an absolute pleasure collaborating with Miracles in Sight to update our DMEK delivery room," said Jim Quirk, President and CEO of Lions Eye Bank of Delaware Valley. "Mike and Isaac were completely transparent and could not have been more helpful with sharing of information and advice."
"Over the years, traditional eye banks have been facing a paradigm shift in eye banking trying to keep up with innovation and the emerging of market competition in the industry," said Darrell Lee, Laboratory and Processing Manager for Lions Eye Bank of West Central Ohio. "We first handed faced this issue with a for-profit company trying to entice local surgeons from our eye bank as tissue providers.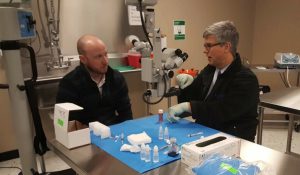 "The outreach of Miracles In Sight has been a valued resource in helping us through the dilemma in staying competitive. More specifically, the assistance in implementing the patented RapidPrep System allowed us to keep the competitive edge we needed to maintain our presence as a strong local eye bank. Through this example it is proof that corneal surgeons and patients can benefit from a community of nonprofit eye banks working together. I strongly believe that in creating a community of knowledge and resources from independent community-based eye banks is the model that works best in keeping true to the integrity of eye tissue banking."
"We have been very appreciative for the close collaboration over the last eight months as it has sparked many in-depth conversations about our processes amongst our ye banks," said Anthony Vizzerra, Director of Clinical Services for Saving Sight. "We have been able to explore additional options for our surgeons to ensure we are offering them the best possible product in hopes to ease their process. We look forward to the continual collaboration in hopes to drive innovation in our industry."