Providing Pre-Stripped DMEK Tissue for Transplant
Miracles In Sight (MIS) was founded with the mission of restoring sight through transplantation and related medical therapy and research. We have worked hard to deliver a new service that will strengthen our position as one of the leading global organizations fighting corneal blindness.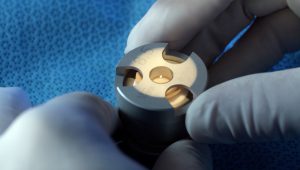 We now join the ranks of a handful of other organizations worldwide who can offer DMEK preparation. DMEK, or Descemet's Membrane Endothelial Keratoplasty, is the transplantation of a donor's Descemet's membrane (which is 1/5 the thickness of a sheet of paper) and endothelial cells into a recipient with a damaged or diseased corneal endothelium; it is not uncommon for a legally blind patient to obtain 20/30 vision in one month following this amazing procedure. Corneal surgeons across the world are increasingly looking to perform this procedure on their patients, as it offers better results and a reduced risk of complications.
Today's announcement marks our newest promise to our partnering organizations and surgeons, and is the culmination of more than 60 years of fighting blindness. "We are very excited for this continued progress in eye banking innovation, and to deliver the same quality you have come to know and expect from Miracles In Sight," said Isaac Perry, Clinical Services Manager.
The mission of Miracles In Sight is to recover, process, and distribute ocular tissue for the restoration of sight through corneal transplantation and related medical therapy and research. A significant part of this mission is our stewardship towards training and education.