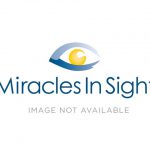 Boy Born with Scarred Cornea Can See Beautifully Thanks to Cornea Donor
Eye injuries are a constant concern for children and adults who participate in sports. But for a young Illinois resident, the threat of blindness loomed long before he ever took to the field.
Anthony was born with compromised vision due to a scarred cornea, an injury that prevents light from passing through the pupil. As he grew older, his eyesight worsened until his vision was less than 20 percent. Anthony had become an avid soccer player and fan despite his near-blinding eye ailment, but the game was becoming difficult for him to play with such poor eyesight.
When Anthony's vision became a threat to his safety, he underwent two corneal transplant surgeries to restore his vision. Following the operation, Anthony was reluctant to open his eyes.
"He wouldn't open either eye because he thought he was blind," said Anthony's mom, Tobey. "The only way we could get him to do it was to turn on the TV to the World Cup."
After being nearly blind for the first six years of his life, Anthony could finally see the world around him, thanks to the generosity of his cornea donor and his skilled medical team.
Anthony is now a teenager preparing to start high school and is taking full advantage of his restored sight. He is an active member of his school's basketball, cross country and track teams; and he has become a star student as well. Recently, he competed in the Illinois State Science Fair with a presentation on peripheral vision.
Anthony is grateful for his sight every day and enjoys any opportunity he has to share his experience with others. He and his family continue to honor his gift by promoting the Donate Life mission and encouraging others to become registered eye, organ and tissue donors.
Story provided courtesy of Illinois Eye Bank