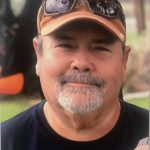 Guy was born on October the 25, 1955 in Austin Tx to Frank and Betty Giesen. He grew up on Hancock Drive in Austin where he had many adventures and made many friends. Guy loved motorcycles and throughout his teen years he threw newspapers and cut grass to earn money to purchase his bikes. He was also into sports and grew up playing Baseball and Football. His Senior year in High School while traveling to a Football game he looked out of the bus window and down into the car beside it and saw a girl. That girl not only became his girlfriend the next week but his wife of 48 years. We married 3 months after our High School Graduation on August 31, 1974. In April of 1976 we welcomed our baby boy to the world and Guy took on the role of being a wonderful loving Daddy. We were again blessed in February of 1984 with a baby girl. Guy was our son's baseball coach and served on the Little League Board in many positions over the years. He also coached our daughter the couple of years she played softball. He was there for every football and baseball game our son ever played and he was that Daddy that traveled around everywhere to the gymnastics meets and was always there to cheer on his favorite cheerleader.
Guy loved the outdoors and he loved taking the kids hunting and fishing. That was a favorite activity that he enjoyed until days before he Flew Home With the Angels.
Guy was a Master Craftsman in the Ceramic Tile Business. He learned the trade and became one of the Best around. He owned his own business and was well known around the Central Texas area. His motto was "Quality not Quantity" and he lived up to it.
Guy was also known for his smile by all who knew him, even on his bad days he was smiling. His smiles were always bigger and brighter when his three Grandchildren were around. He loved watching them do the things they loved…..Choir, Cheerleading, Stockshows, Baseball❤
One of his favorite activities with the Grandchildren was hanging out at the ranch. In 2021 we sold our home of 41 years in Austin Texas and started the process of building our Country Cottage in Fischer Texas. We moved in on February 9, 2022 and began what we thought would be many years of making happy memories at our "Little Piece of Paradise". Guy built his "Man Building" with a "Party Porch" attached. He loved going out there and hanging out and listening to his favorite music from '70's Rock to Texas Country.
Guy was a loving person who had many many close friends. He was a kind and giving man. Our Son-n-law summed up Guy's life up by saying "Guy had such a big and giving heart that it just finally wore out"❤
Our family finds comfort in knowing that someone is seeing through his eyes and he is still seeing through them.
God Bless You, Your Organization and the amazing Doctors that make Miracles happen.
Sincerely,
Dona Giesen