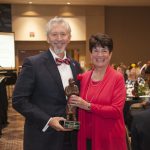 (WINSTON-SALEM, N.C.) — Miracles In Sight (MIS), a nonprofit eye bank that recovers, processes and distributes ocular tissue, was honored for its continued partnership and support of IFB Solutions'  mission with the 2018 Commodore Funderburk Visionary Award. For many years, Miracles In Sight has been a strong supporter of IFB's community outreach initiatives.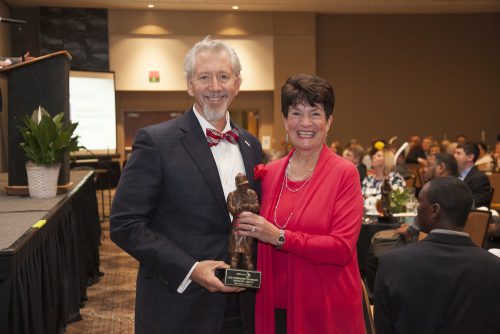 Miracles In Sight President and CEO Dean Vavra accepted the award. Vavra has served on IFB's board of directors since 2013 and was instrumental in connecting MIS with IFB to advance both organizations' missions.
"Dean recognized the synergies between our two organizations and Miracles In Sight has been a generous supporter in helping us fulfill our mission of providing opportunities to people who are blind and visually impaired," said IFB Solutions President and CEO David Horton. "We are incredibly appreciative of their partnership and support and congratulate them on this well-deserved honor."
Miracles In Sight partnered with IFB in 2013 to create the Eye Care and Education Center and supported the launch of a mobile vision center with a nearly $1 million donation. It has advanced the mission of IFB's SEE After School Program with the purchase of buses to transport blind or visually impaired children and teens to Tracy's Little Red School House where they receive essential life and social skills. Miracles In Sight also partners with IFB at the Durham Community Low Vision Center.  
"We strive to make a positive impact on the lives of as many people who are living with curable blindness. It is an honor to receive this award," said Vavra. "MIS is proud to support IFB and its programs. We look forward to continuing our partnership in the years to come."
The Commodore Funderburk Visionary Award is named after Commodore Funderburk who joined IFB Solutions as a mattress-maker in 1963. He could not hear, see or speak. In 41 years of working at IFB, he never missed a day of work.
MIS was presented with the award during IFB Solutions annual banquet in April.
About Miracles In Sight
Miracles In Sight (formerly the North Carolina Eye Bank), based in Winston-Salem, N.C., USA is one of the largest eye banks in the world. The mission of Miracles In Sight is to support the restoration, preservation, and enhancement of sight through transplant, research, education and innovation. A significant part of this mission is stewardship focused on training and educating the medical community and supporting partners and organizations around the world. For more information, visit www.miraclesinsight.org.
About IFB Solutions
IFB Solutions is a nonprofit corporation that provides employment, training and services for people who are blind or visually impaired. In 2000, IFB began producing eyeglasses for the Department of Veterans Affairs, a customer partnership that remains today with IFB supplying eyeglasses to nearly 40 VA locations in the United States. As the largest employer of people who are blind or visually impaired in the United States, IFB operates the optical lab and a large-scale manufacturing facility in Winston-Salem, N.C., along with manufacturing facilities in Asheville, N.C., and Little Rock, Ark. Through its operations and community support, IFB Solutions funds programs for adults and children who are blind or visually impaired. For more information, visit http://www.ifbsolutions.org/.