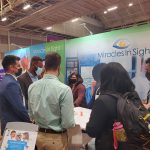 Miracles In Sight (MIS) is proud to have participated in the Minority Ophthalmology Mentoring (MOM) program's Student Engagement Weekend during AAO 2021, the annual conference of the American Academy of Ophthalmology that was held in New Orleans, November 12-15.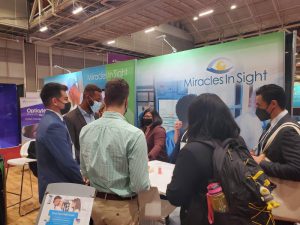 MIS hosted groups of seven to 10 students as part of exhibit hall tours at the conference, where students in the MOM program stopped by different exhibitors for brief presentations and demonstrations related to ophthalmology. Students at the MIS booth had the opportunity to learn about eye banking in general, talk with certified technicians, and interact with tissue recovery and preparation technology.
Taylor Vanek, Business Development Liaison for MIS and also a certified eye bank technician (CEBT), was one of the presenters at the booth. "AAO reached out to MIS and we instantly wanted to be part of this initiative," says Vanek.
"We were happy to be involved with Student Engagement Weekend," she adds. "It was a great opportunity for us to explain what we do and how we do it."
The MOM program hosted 100 students over the weekend, all of whom are either in the first or second year of medical school for the 2021-22 academic year; or pre-med students who plan to enter medical school in 2022. In addition to touring the exhibit hall, students met with their mentors, and networked with each other and leading physicians.
"What impressed us most was that the students asked a lot of questions. They were instantly engaged," Vanek says. "We were able to breakdown what eye banking does for surgeons and the community. We were able to breakdown the anatomy of the cornea. And the students were fascinated by it… even though they had different layers of understanding and were at different parts of their (academic) journeys."
AAO and Association of University Professors of Ophthalmology (AUPO) partnered to create the MOM program four years ago in an effort to increase the number of qualified, under-represented minority undergraduate and medical students in ophthalmology. According to the AAO website, students in the program receive one-on-one mentorship, valuable guidance in medical career planning, networking opportunities and access to a variety of educational resources.
Students in the program explore the field of ophthalmology and gain hands-on experience with ophthalmic technology. They also learn how ophthalmologists positively impact community health by preventing vision loss from diseases such as diabetes and glaucoma. The premise of the program is that access to care improves when the physician community reflects the population at large.
Participation in Student Engagement Weekend as part of AAO's mentoring program is one of many areas where MIS takes an active role in expanding access to our industry. Through its active philanthropy program, MIS also supports an eye bank in India, a mission in South America, and helps new eye banks create technical programs.