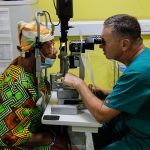 At Miracles In Sight, we are blessed with opportunities to extend our mission to parts of the world where corneal transplants have not been available to help people suffering from vision loss due to disease or injury. We are able to help by partnering with amazing organizations around the world to share the gift of sight with those in need.
One such organization is HCP Cureblindness, which puts surgical care within reach of people in underserved areas of the world. With corneal tissue donated by MIS and other eye banks, HCP Cureblindness is able to, at a very low cost, restore sight to people with eye injuries, cataracts or other eye diseases that can be corrected with corneal transplantation and other surgical treatments.
Two recent examples of the power of this gift were shared with us. And we couldn't resist sharing their stories with you.
In Mongolia, donated corneal tissue from MIS and other eye bank partners was transplanted to patients in a country where corneal transplantations have not been available. Eleven people received the gift of sight, including a 60-year-old farmer who had been blinded by an injury 34 years ago and was able to see a day after his cornea transplant.
According to Dr. Erik Letko from HCP Cureblindness, the success of the surgeries performed there has inspired the First Central Hospital of Mongolia in Ulaanbaatar, where the transplants were performed, to further develop their ophthalmology department to include a transplant program and other subspecialties. In fact, the transplants were performed by Dr. Undarmaa Tumurbaatar, a surgeon from Mongolia who completed her first corneal transplants after receiving extensive training in South Korea.
The other story is of a week-long series of transplantation training and surgeries performed in the African nation of Ghana that was also supported by HCP Cureblindness. Among the nearly 400 sight-restoring surgeries performed by HCP and Ghanian doctors at Korle Bu Teaching Hospital in Accra and Watborg Eye Services in Obutu, five corneal transplants were performed using tissue donated by MIS.
With no eye banking programs currently in Ghana, the donated tissue was the only way patients could get the transplantation they needed unless they could afford to travel overseas. Two of the recipients, Doreen and Efua, were treated by Dr. Gladys Fordjour, a local ophthalmologist and corneal surgeon, who worked with HCP Cureblindess throughout the week.
Doreen was reluctant at first to undergo the surgery. However, she was encouraged by Dr. Fordjour's reputation. After the procedure, Doreen's is happily enjoying her restored vision. "I am happy to say that the team did a very professional job," she says. "I hope the HCP team will continue to work with the team here [at Korle Bu Teaching Hospital] to help others like me."
For Efua, her surgery has done more than improve her vision; it has restored hope. "My success story will reassure those seeking treatment who cannot afford to travel outside Ghana," she says.
These stories from Mongolia and Ghana are wonderful examples of how sharing the gift of sight can make a difference. They also highlight the importance of developing surgical and technical training in parts of the world that have been too remote or under-resourced to provide this life-changing procedure.
At MIS, we are proud to partner with organizations like HCP Cureblindness to make corneal transplants possible for more people in more areas of the world.