Although November is Eye Donation Month, Miracles In Sight also wants to make sure not to overlook an important day for the entire nation. November 11 is Veterans Day, which is especially meaningful for MIS since the organization is proud to have several veterans of the United States Military on staff.
One of the MIS team members who served is Ingrid Schunder, current President and Chief Executive Officer.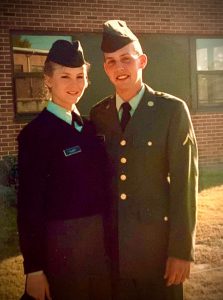 Going into college, Ingrid shares that she did not have the discipline and commitment to hard work necessary to succeed in her studies. After one semester, she happened to meet an Army recruiter and decided to enlist on the GI Bill.
After basic training in Ft. Jackson, SC, Ingrid was stationed at Ft. Hood, TX, where she served for two years as a cook and the Commanding General's mess attendant. Ingrid took care of meals for special visitors and catering for color guard events and ceremonies. Her experience with heavy vehicles back home in Alaska also meant she found herself being called upon to move trucks and big pieces of equipment on the base.
By the time she returned to college after her commitment was fulfilled, Ingrid was ready.
"It's the best thing I ever did," says Ingrid. "I learned discipline, the whole concept of teamwork… I got to do things that most people never get to say they've done and I made friends who I still stay in touch with to this day.
"And I can still make lasagna for a thousand people if I have to," she adds with a laugh.
Along with an appreciation for the chain of command, Ingrid also developed the resilience and perseverance to overcome and do just about anything, she says.
Since her time in the Army, she has earned two bachelor's degrees and an MBA in leadership. Fluent in English and Spanish, she initially set out to be a teacher for a few years in Austin, before taking on a part-time role as a recovery tech for the Lone Star Lions Eye Bank (now Miracles in Sight Lone Star Division).
Ingrid quickly learned everything she could about the field of eye banking. She joined the staff at MIS in 2013, having gotten to know Dean Vavra, MIS president and CEO, through industry training events over the years.
Now, after 21 years in eye banking, her military training still plays a prominent and vital role in her approach to managing donor logistics for MIS. She still carries that respect and appreciation for others around her who have served. She also considers it vital to developing good leadership skills.
"One of my mottos is always have a plan B. I really feel the military taught me that, to always look for the next thing," she adds. "My time in the military just completely changed my life. I would not be where I am today without it."
---
In addition to Ingrid, MIS is fortunate enough to have several veterans on the team, including Raymond Zwak, Wayne Daub and Dean Vavra, to name a few.
Raymondville Zwack served in the United States Marines Corps, rising to the rank of Sergeant and stationed during his three years of service at Camp Penelton, CA; Naval Air Station, FL; and with the Marine Air Wing and USMC Rifle and Pistol Team at Cherry Point, NC
Wayne Daub served three years in the United States Army as a Military Police Dog Handler. His time in the military saw him stationed at Ft. Knox, KY; Ft. Gordon, GA; Ft. Jackson, SC; Ft. Wainwright, AK; and Ft. Hood, TX
Dean Vavra served for 22 years in the United States Army as an Army Medic and Platoon Sergeant. Dean served in multiple deployments overseas, where he received the Bronze Star and the Combat Medic Badge.
Everyone at MIS appreciates the sacrifice, bravery and dedication of these and all veterans who selflessly served their country over the years.