(WINSTON-SALEM, N.C.) — Miracles In Sight (MIS), a nonprofit eye bank that recovers, processes and distributes ocular tissue, recently supported an effort led by UNC Eye to train ophthalmologists in Vietnam. MIS provided all the corneal tissues for the trip, resulting in 16 Vietnamese patients receiving the gift of sight.
"The surgeons at the Vietnam National Institute of Ophthalmology (VNIO) were very appreciative of the donation," said UNC Eye M.D. Kenneth Cohen who organized the trip.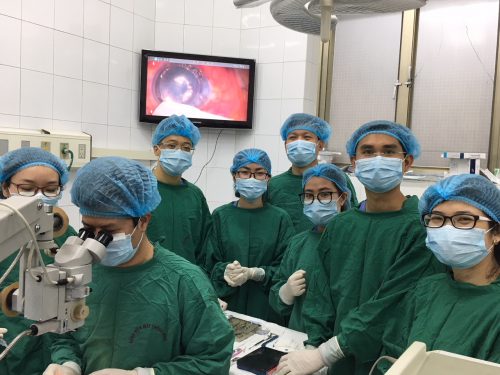 Training with VNIO surgeons in Hanoi took place in March and focused on corneal transplant and cataract surgeries. UNC Eye Residents Kyle Huynh, M.D. and Lee Moore, M.D. traveled with Dr. Cohen to Vietnam to support the effort.
"They had 26 patients for us to see. We graded each patients' severity and did the surgeries over a three-day period," said Huynh. "All of the patients did very well and had good outcomes."
Huynh, a senior resident, says access to corneal tissue in Vietnam is a challenge for the well-trained surgeons at VNIO. "It's a cultural issue. Buddhists do not have a strong donation or transplant platform," he said. "We could not have done it without the support from Miracles In Sight. The surgeons were extremely grateful."
MIS provided all the corneal tissues for the trip including DSEK tissues and full-thickness PKP grafts. The donation was a natural extension of the eye bank's mission to restore sight.
"It is a rewarding experience to be involved in making someone's life better," said Dee Hatcher who manages client education and marketing for MIS. She managed logistics and coordinated with various vendors to ensure all tissues, devices and equipment arrived in Vietnam. 
For Huynh who was born in Bien Hoa, Vietnam and came to the United States at age four, the trip offered him the unique opportunity to practice ophthalmology in another country and experience the culture.
"I learned a lot as a resident. I was able to participate in surgeries with attending surgeons and other residents. Our professional relationships as ophthalmologists transcended any cultural differences," he said. "Dr. Cohen is valued for his expertise and there is a desire to continue to build upon the training. They want us to come back to teach DMEK."
Miracles In Sight (formerly the North Carolina Eye Bank), based in Winston-Salem, N.C., USA is one of the largest eye banks in the world. The mission of Miracles In Sight is to support the restoration, preservation, and enhancement of sight through transplant, research, education and innovation. A significant part of this mission is stewardship focused on training and educating the medical community and supporting partners and organizations around the world. For more information, visit www.miraclesinsight.org.