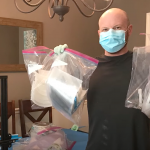 Miracles In Sight and others are being spotlighted by Trellis Supportive Care at their annual 'Living Your Best Life Speaker Series' for their volunteer efforts in the community.
MIS provided critical 3D-printed PPE to staff at Trellis and other healthcare providers through efforts led by Isaac Perry, Director of Research and Development. Other community volunteers included Sutler's Spirit Co., which worked with Wake Forest Baptist Health to turn ethanol into hand sanitizer, and Project Mask WS, which donated hundreds of cloth masks to Winston-Salem residents and healthcare providers.
We are incredibly proud of our team and our neighbors for using creativity and innovation to help improve the quality of care in our community during this difficult time. Isaac put it best when he said "We had two options. You can either sit around wringing your hands, or you can jump in and be part of the solution."
Watch the full video from Trellis' 'Living Your Best Life Speaker Series' here:
You can read more about how MIS started 3D printing face shields in our original article. If you'd like to learn about how you can participate in the MIS Face Shield Project, we invite you to contact Isaac Perry, or you can help support the project through GoFundMe.