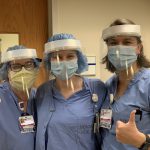 At Miracles In Sight (MIS), we are always working, innovating and collaborating to improve the quality of care and services in our industry. However, with elective corneal tissue transplants on hold, we're also applying that same innovative, collaborative spirit to helping our fellow health care professionals on the front lines of the COVID-19 pandemic.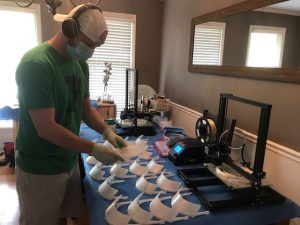 Isaac Perry, our Director of Research and Development, leveraged the expertise and 3D printing capabilities of MIS to help surgeons and other health care workers by producing face shields to help protect them from the virus. Our team uses 3D printers to produce parts of our leading-edge tissue delivery devices, such as the MIS RapidPrep™ DMEK, which is used to transport preloaded tissue for transplantations.
A quick search led Perry to the plans for producing face shields using 3D printed parts and other common office or household supplies. The design he found was developed and shared by other makers to help the cause — and has been approved for use by the National Institute of Health. 
"In this pandemic, it is so easy to go down the path of feeling helpless. It's hard to feel empowered," explains Perry. "But here's something we can do to make a difference."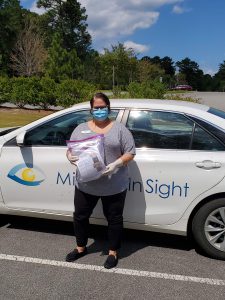 Perry began by printing a small batch to send to ophthalmic surgeons in order to get initial feedback on the design and build. The feedback was resoundingly positive, leading Perry and our organization to purchase more 3D printers in order to make more of the shields. Although the 3D printing process has a limited capacity, Perry says we are running printers 24 hours a day – one week ago this was just an idea, and since then our team has managed to send out more than we could have imagined. Requests have rapidly increased, and we now are working to distribute over 100 in the next few days.
Having started the project only a week ago, we are now working in collaboration with our network of surgeons to help determine where the shields are needed most and how to get them there. Currently, that means reaching out to individual health care practices and groups in North Carolina and South Carolina.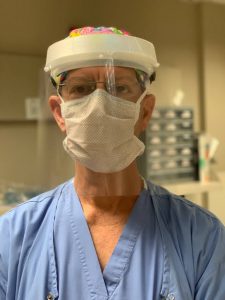 It is important to note that the face shields produced by Perry and our team are not intended to replace existing PPE. "They are meant only for situations where health care providers do not have access to any other PPE," says Perry. "These must be considered prototypes. Check with your institutional guidelines for more information  on acceptable use."
Perry also cautions that there are protocols that must be followed in order to ensure that the shields are disinfected when they are packaged and delivered. Additionally, with each batch of shields, he is providing guidance from the FDA and CDC on the use of 3D printed shields during the COVID-19 pandemic. 
"While it is something anyone with a 3D printer can do, the manufacturing and assembly space does need to be clean, they have to be packaged a certain way, and I follow CDC guidance during the manufacturing process to minimize risk of contamination," explains Perry.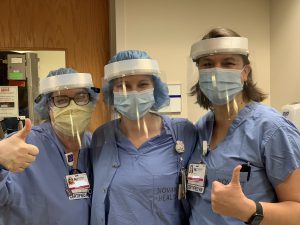 As for other possible 3D printed items to help our fellow medical professionals, Perry has worked with different designs, such as  straps for holding surgical masks in place while relieving pressure that builds upon the user's ears after long hours of wear. He has also seen designs for splitter devices that could  double the usefulness of ventilators in desperate situations.
If you're interested in learning more about the face shields we are producing at Miracles In Sight, or you'd like a copy of the designs to share with other 3D printing resources, please contact Isaac Perry.
Help MIS 3D Print Face Shields for Healthcare Workers