Eye Donation Month is held each November to help bring awareness to the importance of eye donation. All month long, Miracles In Sight, (with the help of the Eye Bank Association of America (EBAA) and eye banks around the world) will help generate awareness about the need for eye donation, common misconceptions about the process, and life-changing opportunities that are created when recipients regain their sight through corneal transplants.
With the help of our partners, we can continue to further our mission to support the restoration, preservation, and enhancement of sight through transplant, research and innovation together.
Eye Donation Month Calendar of Events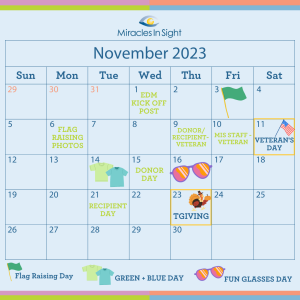 Keep track of how we are celebrating Eye Donation Month throughout November by downloading our November Eye Donation Month Calendar!
Are you following us on our social media platforms? We'd love to see your photos! Make sure to tag our social channels and use the hashtag #EDM2023MIS when posting photos on your pages. Social Tip: If posting on your personal accounts, make sure your profile is not private or we are unable to view!
Follow us on:
Facebook | Instagram | X (Twitter) | LinkedIn
Featured Events
FLAG RAISING DAY – We invite our partnering hospitals to join us for the 2nd Annual Pause for the Gift of Sight, honoring all of our eye donors and their families for their gifts of sight. Join us on Friday, November 3, 2023, with a Miracles In Sight flag-raising ceremony at 1:02 p.m. followed by a moment of silence in remembrance of eye donors. The start time for this ceremony recognizes that one eye donor can give the gift of sight to two people. We plan to share photos from our partners the following Monday, November 6. To order both garden and regular-sized flags, please fill out the flag order form.
GREEN AND BLUE DAY – Show your Eye Donation Month spirit by wearing your green and blue outfits on November 14.
FUN GLASSES DAY – Get some funky glasses and take a selfie with your work friend on November 16.
Download Eye Donation Month Graphics (Marketing Toolkit)
We are grateful to hear from donor families and recipients about the impact of their experiences. If you or someone you know has been involved in the donation process, please consider sharing your story to help spread awareness and hope for families in similar situations.