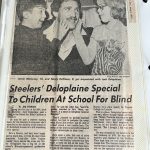 NFL football fans, especially Pittsburgh Steelers fans, will certainly recognize the name Jack "Hydroplane" Deloplaine. Drafted by the Steelers in 1976, Jack was a talented running back who earned his nickname, and a Super Bowl ring, by being particularly effective running in the rain. But he garnered an even greater reputation for his humility, kindness and generosity.
Jack passed away in early August of 2022 at the age of 68. Honoring his wishes, his corneas were donated to Miracles In Sight.
Although Jack was not officially registered as an organ donor until later in life, he and his wife, Kathy, discussed the decision long ago. As former Director of Cardiology at Allegheny General Hospital in Pittsburgh and Assistant Vice President of Cardiac Services at AnMed Health Medical Center in Anderson, S.C., Kathy knew the importance of organ and tissue donation. "I know how life-saving and life-changing it can be," she adds.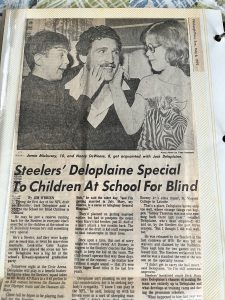 When Jack realized how much of an impact being an organ donor could make on other people's lives through either transplant or research, it was an easy decision. "That's the kind of person he was."
"I am ecstatic that someone will receive the gift of sight," says Kathy. "Jack would, too. He'd be grateful that he was able to help someone in that way."
For those who knew him, inside and outside of football, his choice to donate his organs and corneas would come as no surprise. Jack was a thoughtful soul who, despite his athletic success, never forgot where he came from and always sought to help others.
As Harry Hartman, one of Jack's college coaches, put it, "I hope that Jack's donation of his corneas resulted in the recipient seeing the world as Jack did. He was a great man who always looked out for the underdog."
Jack was a star football player coming out of high school in Pottstown, Pennsylvania. He went on to attend Salem College (now Salem University) in West Virginia where he led the NAIA in scoring with 22 touchdowns in 11 games in 1975. Even then, his coaches and teammates remember him as much for his heart as for his football prowess. Kathy recalls another one of his coaches saying to her after his passing, "He was the type of person who made everyone around him better. He was so talented, and so humble that people were drawn to him and his patience and giving nature."
In 1988, Jack was inducted into the Salem University Hall of Fame and is the namesake of the school's Jack Deloplaine Leadership Award, given annually to an athlete who represents his spirit and leadership. He was part of the inaugural class of recipients of the Pinnacle Award from Salem, which recognizes former student-athletes who went on to careers as professional athletes, coaches or officials. And in 1995, he was inducted into the Pennsylvania Sports Hall of Fame.
"It's amazing to me to hear stories from his college years," says Kathy. "Even though he was a big star, his kindness to fellow students and to the Salem community was what really mattered… I've received messages from different teammates and coaches at least on a weekly basis."
There are now two scholarships in Jack's name at Salem University. Both are intended to help disadvantaged student-athletes who lack the resources to pay for college on their own.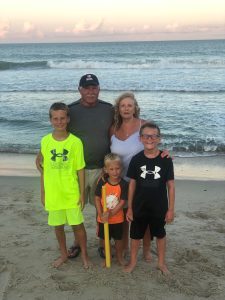 As a professional football player, Jack was happy to take part in community outreach, including visits to the School for the Blind in Pittsburgh, volunteering with the Special Olympics of Pennsylvania and all kinds of fundraising events during and after his playing career. "He always attended charity events with the Steelers," says Kathy. "And he never took any compensation for his appearances."
When a knee injury shortened his NFL career, Jack retired from football and went to work as a labor foreman at a state prison near Pittsburgh where he would often lift weights or organize impromptu games with the inmates. Kathy remembers how he never saw himself as any better than anyone else. "He never bragged about being a Steeler," she adds. "He treated everyone with respect."
Jack's real passion after playing football was spending time coaching and helping children. "He was like a big kid himself… When I first introduced him to my family, he would spend more time outside playing with all of my nieces and nephews," explains Kathy. "They knew him better than the adults did."
He coached football, baseball and helped with other sports that their sons, Ryan and Todd, played. Jack was even looking forward to helping coach his grandsons, Tyler, Chase and Shane, before he passed away.
Throughout Jack's life, he simply found ways to make a difference in other people's lives. For example, one holiday season he was asked to dispose of an excess truckload of new, donated toys that a local charity couldn't use. Jack decided to stop at a local orphanage, the Holy Family Institute, to see if they could use them. Unbeknownst to Jack, the administrators at the orphanage had not received their usual allotment of Christmas gifts for the children. The toys Jack brought ensured that each child would have a present to open that Christmas.
On another occasion while driving to work, Jack noticed an older man pushing a bicycle who seemed to be struggling and stopped to ask him what happened. The man was a Vietnam veteran. He had been using the bike to get to work every day, but the bike now had a flat tire. Jack threw the bike in his truck and took the man to get it fixed. After seeing that the bike was in rough shape, Jack simply gave the man a new one.
When the Deloplaines were enjoying a vacation at the beach, Jack, Ryan and Todd were having fun boogie boarding in the waves. Jack noticed an older couple and their son, an adult with a disability, on the beach nearby. The man was watching the Deloplaine boys boogie boarding when Jack walked up and asked him if he'd like to give it a try. Delighted, Jack spent the next four hours with the man, teaching him how to ride. The man's parents were so appreciative, they were in tears. "They said that no one had ever taken that kind of time with their son," says Kathy. "He just connected with people like that."
After moving to Anderson, South Carolina, Jack retired while Kathy continued working. But Jack didn't slow down. He spent his time helping his older neighbor by mowing his lawn twice a week. He volunteered at the local YMCA and enjoyed coaching and helping with his grandkids whenever he could.
"He made people feel like they were important to him," says Kathy. "And they were."
"It is wonderful to be able to talk about the person Jack was… even without all the other recognition… I am grateful knowing that someone has benefited from his gift and the opportunity Miracles In Sight has given us."