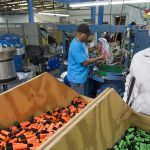 That two nonprofit companies grew up side-by-side in the Triad is not nearly as surprising as the growth and evolution they've experienced in employing those who are blind.
Greensboro Industries of the Blind (IOB) has not only continued, diversified and expanded its traditional lines of commerce, but recently contracted with the U.S. Defense Logistics Agency to warehouse and deliver a wide variety of goods within 48 hours. It's a move lucrative enough to warrant IOB inking a five-year lease of 108,000 square feet of warehouse space in Greensboro.
Meanwhile, Winston-Salem Industries for the Blind (IFB) is already the largest U.S. employer of the blind and visually impaired in the U.S., and it continues to evolve. In what one employee calls "our best kept secret," it has installed a full-scale eyewear retail operation that follows the LensCrafters model for providing made-to-order eyeglasses in designer frames.
Read the full article at Triad Business Journal.